1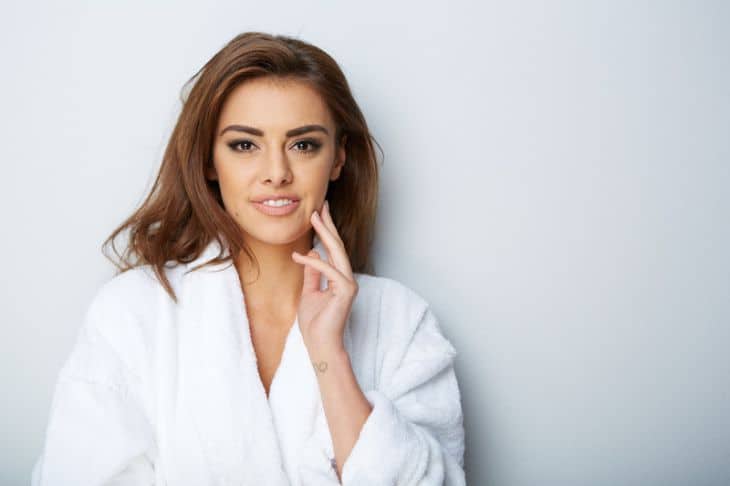 5 Best Radio Frequency Skin Tightening Machine For Home Use (Updated 2020)
Saggy skin can be difficult to deal with sometimes and if you have run out of all familiar quick fix solutions, it may be time to consider some new age home gadgets!
Radio Frequency skin tightening has recently become quite popular in salons and spas for restoring youthful look.
Amazing, right?
Beauty salons are making use of radio frequency skin treatments to reduce the appearance of wrinkles and fine lines in their client's skin.
The technology works by stimulating the tissue under your skin, and helping it to produce more good stuff like collagen and elastin. The end result is a more youthful, firmer appearance to the skin.
What is Radio Frequency Skin Tightening?
Radio frequency (RF) skin tightening is a non-surgical, anti-aging treatment that use radio waves energy to heat tissue and stimulate collagen and elastin production.
Radio waves penetrate deep into your skin and gently heat the lower skin tissues to stimulate collagen production and tightening of elastin fibers for a smoother, tighter and youthful skin.
This type of treatment is definitely very desirable to a lot of people, since it promises great results without the invasive cutting involved with a facelift, or the pricking of a micro-needling device. Not to mention, more invasive treatments often come with a certain amount of recovery time- not so great for those of us with busy schedules.
So clearly, these radio frequency treatments have a lot of upsides. However, this is a multi-stage procedure, and it can take anywhere from 8 to 10 treatments to see the full results.
If you're looking to have multiple treatments using radio frequency technology, it can be much more convenient to have your own personal device at home. Not to mention, some spas charge up to hundreds of dollars for each treatment!
So, without further ado, let's take a look at the top 5 best radio frequency skin tightening machines available!
Top 5 Best Home Radio Frequency Machines Comparison
Top 5 Best Radio Frequency Skin Tightening Machine Reviews
1. Norlanya RF Skin Lift Device
The first RF device on our list comes to us from Norlanya, a company founded in 2010 that also manufactures beauty devices for professional use in salons and spas.
Norlanya takes great pride in following controlled standards to produce their devices. This can give you some peace of mind when purchasing the product.
This device promises to tighten skin and provide a beautiful, youthful glow. It is also important to note that radio frequency devices can be used on every kind of skin tone.
This is great, because those of you with very light or darker skin don't need to be concerned about the treatments leaving behind ugly scars or discolored marks.
Norlanya's radio frequency device comes equipped with a newly improved platinum device head- which is the part of the device that actually controls the heated treatment. The platinum head has 144 small RF tips it can last for 6 months, or 40 treatments.
Considering that the company recommends 1 or 2 sessions per week, that's a long period of effectiveness. Also, if your device head becomes too old to use, don't worry! You can purchase replacement heads separately.
For those of you who may be worried about possible skin irritation, the Norlanya device could be the best home radio frequency machine. This RF device comes equipped with multiple settings, so you can increase the intensity of the treatment depending on your comfort level.
The rechargeable device will work for 30 to 45 minutes with a full charge that takes 2-3 hours. The device should be used with a water based gel or cream for best results.
Recommended use time is for 20-30 minutes, the lower settings can be a good option for those who want to start out a little more slowly.
Next up, we have a very similar device from Project E Beauty. This is one of the best radio frequency machine for the face and functions in the same way by using a golden head to deliver radio frequencies to the skin.
Like the Norlanya device, this product has multiple settings for newer users. It can also function for up to 4 hours after being charged.
A very nice feature of this device is that it comes with a Duplex E Collagen Ion Gel which is designed to be used as a sort of lubricant for the skin. Most RF devices are intended to be used with a water based gel or cream to help the device glide along your skin and give a more even result.
However, if you accidentally use an oil based gel or cream, it can have the opposite effect and cause uneven results. Obviously, we all want to avoid making our skin situation worse- and avoid a beauty nightmare!
So, the fact that the collagen gel is included with Project E Beauty's device can help take the guesswork out of deciding which cream you could use during your treatments. See the below video review to see it in action.
3. Mlay RF Facelift Beauty
The next product in our line-up comes to us from Mlay.
This device includes a few more features than the previous items we've covered, so let's dive right in to some more details.
Unlike the other devices we've looked at, the Mlay device features several different skin care benefits. In addition to the radio frequency capabilities, this handy gadget comes equipped with latest bipolar RF technology.
The device also gives you the option of using three different power levels. If you're looking for an RF device that really packs a skin care punch, this could definitely be the one for you.
Another useful feature of this device is the built-in timer. After 10 minutes of use, the treatment will turn off, so that you don't need to worry about potentially using the device for too long.
This could be very good for those of you who are first-time users of this kind of device and are nervous about accidentally over-using the treatments. It's also good to note that this device gives you the option of purchasing a warranty, which could be nice if you're looking to use this product more long-term.
The TriPollar Stop uses tri-polar radio frequency technology to heat the skin from inside for visible skin tightening and renewal.
The first, and most noticeable difference with the Tripollar Stop device is the styling. This is another best home radio frequency machine that is downright beautiful, with a sleek, elegant design available in red, white or black.
The kit also comes with a power source, adaptor, and a gel to use during the radio frequency treatments.
This product would look beautiful on any bathroom counter, and is small enough to travel easily. You would certainly never hesitate to pull out this device in front of your friends.
Recommended use is 12-15 minutes, 2-3 times a week and regular use for 6 to 8 weeks will give noticeable firming and skin rejuvenation.
If you are looking for a very portable, stylish RF device, this could be the best radio frequency machine for the face for you!
The Nuoxinus is slightly different than the ones we've listed previously, but it could certainly have great perks for the right user.
Nuoxinus is a more professional device and provides a broader range of use than the previously mentioned products. It comes with two different RF heads, which allow for use on the face, the body, and on smaller areas requiring detailed work like eye.
Because of the variety of sizes and intended uses, this product could be really great for those who want to use radio frequencies on larger areas than just the face.
However, if you want to use this device for travel, or want an easily portable radio frequency experience, this might not be the device for you. This machine is slightly bigger than the other products we have looked at so far, weighing in at 4 pounds.
Of course, with the weight you do get more features, such as a self diagnostics and a storage area for the radio frequency heads.
So if you are looking for a product that will stay close to home and provide a more permanent treatment, this may be the right device for you.
Things to Consider For a Best Home Radio Frequency Machine
All of us want to have beauty, youthful skin- without paying an arm and a leg for it or causing ourselves a lot of pain, if possible! These best at home radio frequency skin tightening devices can solve the problem of going to salons or spas for multiple treatments that can be expensive and inconvenient.
So, here are some of the most important factors to look for when buying a radio frequency device.
Ease of Use: Most of us are not professional salon technicians. We all want to feel comfortable and safe when doing anything related to skin care. So, it can be really important to choose a device that will be easy to use and include clear directions and settings.
Flexibility: If you're sinking some money into a radio frequency device, you want to be sure that you can take it with you and use it anywhere with minimal difficulty. No one wants to lug around an inconvenient or ugly device, no matter how much good it does!
It's also nice to have a device that charges easily and quickly, and holds a charge. This can reduce any delays in treatments and help you to keep a regular schedule of beautifying your skin.
Extra Features: For those of you who want to establish a great skin care routine, the more extras and special features a device comes with, the better! Also, since you do need to use a gel or cream with radio frequency devices, it can be an added bonus if your kit comes with a gel or cream specifically formulated for use during these treatments.
In addition to radio frequency treatments, there are devices that offer more skin care treatments. For those who want to get the maximum benefits from their new product, it can be important to have even more options that target additional skin issues.
Does Radio Frequency Skin Tightening Work?
RF skin tightening is an innovating and promising technology for non-invasive, non-surgical tightening of the early signs of sagging skin and fine lines.
As per current clinical studies and results, most people should see noticeable improvement in their skin tightness, with minimal risks and downtime compared to surgery.
The results may not be the same for all people and require regular sessions, so it is also essential to understand the expected outcomes of such treatments before committing to one.
Radio Frequency skin Tightening Before and After photos
Check out these below real life pictures of women who benefited from RF skin tightening
Radio Frequency Facial Treatment Benefits
These are some of the important benefits of radio facials
Tone and tightens saggy skin
Get rid of fine lines on your face or under eye regions
Totally safe procedure with no surgery and no downtime
Visible results from first treatment
Reduces cellulite or fat tissues
Improves blood circulation and skin suppleness
Radio Frequency Skin Tightening Side Effects
The procedure may cause discomfort or pain for some people and the skin becomes normal within a week or longer. During this time one may experience
Slight pain on treated area depending on individual tolerance and skin sensitiveness
Swelling or inflammation of the skin
Redness on the treated skin surface
Blisters
Over sensitive skin
You should avoid the treatment if you are pregnant or suffer from any known skin, heart or other conditions and it is always better to consult your doctor before starting the treatment.
Radio Frequency Skin Tightening How Long Does It Last?
RF skin tightening can last long depending on your treatment cycle frequencies and follow up sessions.
Once you have completed enough sessions and achieved the toned look you can maintain the same with follow up sessions once every 3 months or less depending on the device being used. In this way long lasting results for up to 2 years can be achieved.
The Winner Is
While all of the products we've talked about have their own strong points and special abilities, the Norlanya device is our top choice for the best radio frequency skin tightening machine. The Norlanya features a platinum RF head, is easy to use and comes at a good price.
The device is easily portable and provides all essential features to make sure your skin stays firm and young.
Laura Jones is our chief editor and driving force behind this blog. She also works as a beauty consultant specializing in research and development of innovative and new age beauty products.She believes that sharing knowledge is the best way to improve the quality of life.