1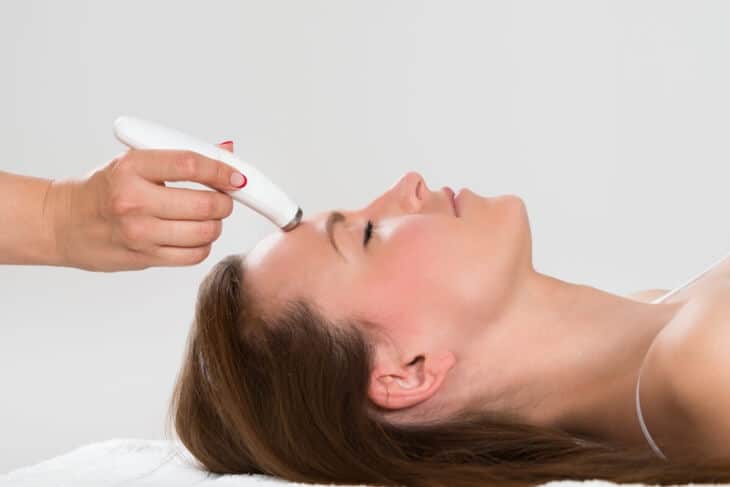 Best Microdermabrasion Machine At Home June 2017
Microdermabrasion treatments can cost hundreds of dollars per visit to the spa, and it can take several treatments before you start seeing the glowing skin results you want.
It's hard to justify spending so much money on another regular beauty treatment.
The solution?
More...
Learn how to use a best microdermabrasion machine at home!
For the price of about one treatment, you will be able to give yourself treatments any time you want to get rid of many facial skin issues. It is also one of the best ways to uplift your face without any surgery.
Microdermabrasion machines are used to treat many facial conditions. You can consider it as next level of exfoliation.
What is Microdermabrasion?
Microdermabrasion is the process of removing outer layers of your skin to reveal a younger healthy skin.
A small hand-held tool sprays miniature microcrystals or a diamond tip wand is used to remove the exterior layer of dead and dry skin cells.
This makes your skin more radiant and tight, also reduce the appearance of wrinkles.
It also help to reduce pigmentation, toning down acne scars and dark spots. They can even lessen the appearance of acne scars and stretch marks.
​
Using one of these machines will build up collagen, giving you the smooth and fresh look you desire.
In addition, they improve the penetration of any facial creams or lotions you use.
Top 10 Microdermabrasion Machines Comparison
Image

Model

No: of Heads/Type

Suction (Inch/Hg)

Price

Our Rating

9/ Diamond

26

$$$$$

Zeny Pro

9/ Diamond

26

$$$

6/ Crystal

Not Applicable

$$

1/ Diamond

​

Not Applicable

$$

9/ Diamond

16

$$$$

Olay Pro X

1/ Crystal

Not Applicable

$

Neutrogena

1/ Crystal

Not Applicable

$

Microderm GLO Daimond

1/ Diamond

22

$$$

9/ Diamond

27

$$$$$

Zeny 3 in 1

9/ Diamond

21

$$
5 Best Microdermabrasion Machine At Home
1. ​Kendal Diamond (HBS-F01)
Kendal HB-SF01 is one of the best at home microdermabrasion machine. This machine comes with two stainless steel wands and multiple sizes of 9 sterile diamond tips for microdermabrasion: 3 large, 3 medium, and 3 small.
Each of the sizes comes with a fine, medium, and coarse option, allowing you to choose a specific size and abrasiveness to fit your needs with each use. There is also a dial to control the suction of its vacuum.
Being able to customize the machine to fit your needs means less risk of damaging your skin and more ability to target blemishes and fine wrinkles. You can use this machine to get closer to your eyes and mouth than previous models used for microdermabrasion because of its diamond heads.
Using this, you will not have to worry about getting crystals in your mouth or nose, and all skin debris will be sucked away by replaceable filters. The kit includes 360 cotton filters, each for single use (240 small and 120 large), air hose for diamond filter, power cable and 2 plastic oil filters.
It is also possible to clean the diamond tips with a soft toothbrush and rubbing alcohol. This makes the product clean and safe.
This Kendal machine is recommended for professional aestheticians, so you will want to be sure that you are comfortable using a professional-level machine on yourself if you purchase it.
Suction power is good and the device offer good relief from acne, black heads, age spots, pigmentation, rough skin in addition to removing wrinkles , blemishes and scars on your face.
It also comes with a one-year warranty and lifetime parts support should parts of it need to be replaced.
Review Snap : Kendal HBS-F01
Specifications
+ Head- 9 Diamond tips
+ Suction- 26 inch/Hg
+​ Wands- 2 stainless steel
+ Filters -240 small, 120 large
Features
+ Good suction
+ Spa like results
+ Warranty- 1 year
PROS
Spa like results at home
Great for acne,blackheads, age spots, wrinkles and scars
Great suction and results
CONS
Lack of detailed instruction manual
Expensive
Verdict : Most powerful and reliable professional grade diamond machine for home use
2. Zeny ​Pro Diamond
The Zeny Pro is a professional quality machine that offers good value for those who want a spa like microdermabrasion machine.
It comes with three wands and nine diamond tips, and its vacuum can be adjusted by a dial for varying levels of suction. This makes this machine good for people even with very sensitive skin.
You can use it to reach precise spots on your face, and you can change the level of suction easily as you move it from one area to another.
The kit includes a PVC hose, 6 rubber rings (3 large, 3 small), 100 pieces cotton filter (18 mm-50, 11 mm- 50) and 2 fuses. The device is easy to assemble and compact.
Zeny pro reduces lines, scars, blemishes and pigmentation effectively thereby improving your skin texture. You can get rid of dull and aging skin with regular use of this device.
Powerful suction along with a high quality diamond tips give you a spa like experience making it another best diamond microdermabrasion machine. You can clean it by gently rubbing alcohol over the tips.
You will need to check the tips when you order them, because there have sometimes been small defects in the diamond settings, causing one diamond to stick out more an others, which can lead to scratching your face. If this happens to you, send the tips back to the company for a replacement.
Review Snap : Zeny Pro
Specifications
+ Head- 9 Diamond tips
+ Suction- 26 inch/Hg
+​ Wands- 2 stainless steel
+ Filters-18mm(50), 11mm (50)
Features
+ Good suction
+ Spa like results
+ Warranty- 1 year
PROS
Good suction and results
Good for pigmentation, age spots, wrinkles and scars
Convenient to use and maintain
CONS
Lack of proper instruction manual
Verdict : Powerful and affordable diamond tip machine for home use
3. PMD​ (Personal Microderm System)
The PMD system is another top rated microdermabrasion machine that does not use diamonds; instead, it uses patented spinning disc technology and aluminum oxide crystals.
These crystals are almost as hard as diamonds and are also hypoallergenic. The crystals and vacuum are also encased in a large pen-shaped tool, which is easy to hold.
It uses a unique calibrated vacuum suction that pulls blood flow to skin's surface for increased blood flow and circulation. This suction method not only remove the dead skin cells, but triggers the body's healing mechanism building collagen and elastin to make skin firm and vibrant.
With the PMD, you will get six microdermabrasion heads and one "training" head, which can also be used for very sensitive skin.
The training head is for beginning home microdermabrasion practice and should not be used in combination with any of the other heads. The other heads are 2 grey (very sensitive), 2 blue (sensitive), and 2 green (moderate).
It comes with 2 caps (large-body exfoliation, small-facial exfoliation) and one reusable filter is also provided. PMD reduces appearance of wrinkles, blemishes, lines and enlarged pores. It also brightens and evens skin tone.
Overall. PMD gives your face a fresh and rejuvenated look. Check this video on how to use the PMD.
If you tend to scrub too hard or overuse beauty tools, this may be a better option for you because you are less likely to accidentally scrape your face with aluminum oxide than you are with diamonds.
Like with diamond tips, you will need to replace these heads regularly with use. PMD recommends replacing them every three to four uses.
Review Snap : PMD
Specifications
+ Head- 6 crystal heads
+ Caps -Body, facial
+ Warranty- 1 year, 5 year extended
Features
+ Patented spinning disc technology
+ Calibrated vacuum suction
PROS
Good option for sensitive skin, body areas
Good for pigmentation, age spots, wrinkles and scars
Compact ,lightweight , easy to use
CONS
Head will wear out after 3-4 sessions
Replacing heads increase maintenance costs in long run
Verdict : Powerful, effective handheld machine for home use
4. Trophy Skin MiniMD
Trophy Skin Mini MD claims to reduce spots and scarring on your face and neck in as little as five minutes of use.
Like most of the previous machines, it also uses a diamond tip and vacuum combination.
Its vacuum comes with two levels of suction to increase blood flow to epidermis which rebuild collagen and elastin. It comes with an AC adapter and 30 black wool filters.
This machine's tips feature diamonds placed around the rim, which can mean a gentler microdermabrasion experience compared to tips that place diamonds in the middle. T
his gentleness can lead to needed less powerful suction as well. If you have sensitive skin but still want to use a microdermabrasion machine, this may be your best option.
Recommended usage is 2-3 times a week if you are using it for 5 minutes at a time. Regular usage reduces the appearance of wrinkles, acnes, scars, blemishes, age spots and improving skin texture. It is lightweight and portable.
This machine also states in its directions that you can safely use it on body parts other than your face, meaning that you can use it to tighten lines in areas like your chest and hands, and you can use it to lighten scars anywhere on your body.
The Mini MD is quick and easy to use and give reasonable results making it one of the best home microdermabrasion machine for beginners.
Review Snap : Trophy Skin Mini MD
Specifications
+ Head- 1 diamond rim head
+ Filters - 30
+ Suction settings- 2
Features
+ 5 min usage at a time
+ Warranty- 6 months
PROS
Good option for sensitive skin, body areas
Good for acne, age spots, wrinkles and blemishes
Compact, lightweight, easy to use
CONS
Head will wear out after 3-6 months
Replacing heads increase maintenance costs in long run
Verdict : Affordable handheld machine for home use
5. New Spa Home Diamond
New Spa Home microdermabrasion kit is another best at home microdermabrasion machines you can get. This machine uses diamond chip heads and a debris vacuum for a safer microdermabrasion experience.
The portable kit comes with two wands, nine diamond tips, silicone hose, 16 and 10 mm filters (50 each), cosmetic head band, facial cleaner, after treatment serum and replacement "O" rings.
The diamond tips will likely make your pores appear smaller and get rid of pesky blackheads and whiteheads, and the smallest attachments for the wands will reach into corners in your face, even under your nose and around the corners of your mouth.
As the name suggests, this is a professional grade machine that gives impressive results without being too loud. It is very effective in removing blackheads, tightening the pores, removing blemishes and makes your skin less oily, smoother and softer.
However, you will have to be careful with the suction on this machine. Its suction is strong enough to suck your skin too far in if you do not move the vacuum around your face quickly enough. You will probably want to practice using it away from your face first.
The diamond tips will show evidence of use, even perhaps as early as the first time they are used. You will need to replace them after a while, but replacements and assembly instructions can be easily found on the New Spa website.
If you like the results of microdermabrasion, replacing the diamond heads you use most is worth its price!
Review Snap : New Spa Home Diamond
Specifications
+ Head- 9 Diamond tips
+ Suction-16 inch/Hg
+​ Wands- 2 stainless steel
+ Filters -16 mm (50), 10 mm (50)
Features
+ Spa like results
+ Portable case
+ Cleanser and serum provided
+ Warranty- 6 months
PROS
Professional grade results at home
Great for pores,blackheads , whiteheads and oil skin
CONS
Tips can get dull fast
Expensive
Suction not the highest for similar priced machines
Verdict : Good professional grade diamond machine for home use
Other Quality Brands To Consider
If you are not looking for an expensive at home microdermabrasion machine, then you can consider these two handy, inexpensive products to experience how microdermabrasion works.
Olay Pro X​
The Olay Pro X is a dermatologist-designed cleansing and microdermabrasion system. It is a 3-speed waterproof device with 2 interchangeable heads. One head is a soft bristle brush that can be used to exfoliate daily.
The kit comes with Olay facial cleanser, thermal crystal polisher, foam and brush heads, brush handle and 2 AA batteries to power it.
The other is a microdermabrasion foam head removes your dead skin layers with help of a thermal crystal polisher. For using this wet your face and foam head, then apply the Pro X crystal polisher to face and gently massage on face for 60 seconds.
Rinse face and system with water to remove the dead skin layers. You can use it weekly twice with sufficient gap for best results.
Olay claims that 90% users have noticed visible improvements in dullness, pores, fine lines and have got a silkier, smoother skin. This is a compact, portable and inexpensive device that can help with your daily skincare regimen.
Neutrogena
Neutrogena is a similar handheld complete microdermabrasion system, that uses a rejuvenating single use puffs along with the microdermabrasion applicator.
Each puff contains ultra-fine crystals and mild purifiers for gentle exfoliation and dermabrasion.
The 2 AA battery powered device also provide massaging micro-vibrations that boost surface cell turnover for a younger looking skin.
For using you need to attach the puff on device head, wet face and puff and massage for 1-2 minutes on desired area. Recommended usage is thrice a week. The kit contains 12 rejuvenating puff heads (refills sold separately), microdermabrasion applicator, device attachment head and 2 AA batteries.
Neutrogena's study claims that 88 % users had significant reduction in wrinkles and age spots after 4 weeks of usage and much firmer and younger skin after 2 months of usage. Overall, it performs well for an inexpensive, portable device for doing microdermabrasion.
Does Microdermabrasion Work?
Yes it does work! Microdermabrasion is a proven non-surgical and minimally invasive process with great results. Results can vary depending on skin types and skin problems being treated.
Also it is important to keep in mind that is it is not an overnight cure but will require many regular sessions to achieve the desired results. So make sure to identify the best device for your skin and expected results before you purchase one.
Microdermabrasion Before and After Photos
Check out some of the before and after photos to get an idea of the expected results you can acheive with a microdermabrasion device.​
What are the Benefits of Microdermabrasion?
Microdermabrasion is a great machine for anyone who is looking for a more inexpensive solution for their skin and have the following benefits:
Achieve younger and firmer skin as it improves skin texture, smoothness, blood circulation and builds collagen on the face tissues
Reduce signs of aging like aging spots, fine lines and wrinkles
Microdermabrasion is suited for all people with various skin types and tones
Effective in fighting against clogged pores, blemishes, acnes, whiteheads and rosacea
Improves the penetration and effectiveness of skin products by removing the dead layers
Quick, painless and minimally invasive method with great immediate results
Can be done without any detailed preparation and downtime, though gentle exfoliation is recommended before the session
Suited for all people with various skin types and tones
Types of Microdermabrasion Systems
There are two types of microdermabrasion machines available.
Crystal Microdermabrasion Machine
This is the more traditional method which uses a fine spray of natural crystals to remove the skin layers. Natural crystals are used for this, usually aluminium oxide or sodium bicarbonate crystals.
They have irregularly shaped edges to remove dead skin cells effectively. A vacuum pump removes the dead skin cells removed by the crystal spray. As the crystals are not reused, the treatment is more clean and free from any infections or bacteria.
These machines are gentle on the skin and does not cause any swelling. There is a risk of stray crystals entering your eyes or mouth so it cannot be used more effectively near these areas.
They are less expensive and more portable but you will need to keep buying the crystals for continued use.
Diamond Microdermabrasion Machine
These devices have removable synthetic or natural diamonds fitted on the tip of the wand to scratch away the dead skin cells which are picked up by a vacuum pump.
They are more popular today as it offers better control and precision when compared to crystal machines.
You can choose different size and coarseness of the diamond tip that suits your needs. It can be harsh on your skin and need to be used carefully .
There is no risk of crystal ingestion and can be used near your eyes or mouth regions. Also as the tip is reused, there is a risk of bacterial infections if it is not cleaned well.
Buying Factors For A Microdermabrasion Machine
Knowledge about important features to look for in a microdermabrasion device will help you purchase the right one for your home. In general these are the main factors to consider:
Type of device

- You can choose either a diamond tip type or crystal type microdermabrasion machine. Diamond type are the

popular choice

due to better precision and performance. Those who prefer gentle and portable machine can go for crystal machines.

Suction power

– The dead skin layers being removed by the crystals or diamond tips need to removed quickly and efficiently using the vacuum pump. The pump should have good suction power for getting best results. It is measured in. Higher the value more powerful the suction.

Ease of use

– Since you will be using at home by yourself, the device should be easy to hold and use. So check out the device and its attachments properly if it can be used easily.

Portability–

For those who frequently travel and want to get a quick face lift, can look for small, lightweight and portable models that are available today. They are usually less powerful and don't expect to get great results.
Price-

These are expensive devices so you need to consider your budget while picking a good machine. If you are a regular user, getting a home microdermabrasion machine is far cheaper than going to an

expensive beauty salon

.
Tips for Doing Microdermabrasion at home
Buying one of these machines is not a quick fix for your beauty needs. It is essential to keep in my mind these useful tips for doing microdermabrasion at home and to follow them for best results.
Do not use the device if you have any open wounds ,sores, sunburns, lesions, warts and if you are taking any anti-coagulants.
Although you will likely start to see results begin after your first treatments, you will need to use the machine many times and give plenty of

wait time between

each treatment, or you may accidentally give yourself a nasty scratch on your face that can take weeks to heal.
Recommended usage for powerful devices is weekly

once for 4-6 weeks

,once you start getting results you can reduce it to once in a month. Smaller devices can be used

2-3 times weekly

for small durations. Make sure that you read all directions that come with your machine and wait as long- or longer- than it tells you to between treatments, even when using the least abrasive tips.
Prepare your skin before the process by using a quality cleanser or

mild exfoliant

s

to get rid of any oil, dirt or makeup residues from your face. You can

remove any facial hair

growth by epilating or waxing them a few days before doing microdermabrasion.
After doing microdermabrasion use a good toner that soothes and freshens the skin with

anti-oxidants

and hydrating ingredients. Also use a quality moisturizer in addition to prevent skin from drying out.
If you are using

diamond tipped

devices it is better to start with smaller, gentle tips to check for any skin reacts to it. Use harder tips with extra care and don't bruise yourself in the process. If you are not getting desired results with the same tip after consistent usage, it may be time to get a new tip.
One important accessory of most vacuum based microdermabrasion machines is the

vacuum filter

. These are used to collect the

dead skin tissues

and needs to be changed each time to prevent any infections. It is good hygiene to clean with diamond tip or heads with an alcohol solution after each use.
You should avoid sun exposure after the treatment for few days as skin will be very sensitive and prone to damage. Also avoid

intense skin care products

on face for few days to allow the skin to heal itself properly.
How to Use a Microdermabrasion Machine at Home?
Most device come with user manuals and assembly instructions. But some of the devices don't come with one as they are meant for professional use. Here we list some of important steps to follow while using a microdermabrasion machine at home.
1. Ensure your kit has come with all components mentioned on the product page or package.
2. Assemble the device by connecting the hose to the device at one end and the stainless steel wand at the other end. Then choose a suitable diamond tip and connect to the wand. For handheld devices there will be no hose and you can connect the disc or tip head to the device.
Make sure to put on the cotton filters and rings provided at all joints as per size to collect the dead skin removed during the process.
3. Clean your skin with a good cleanser and pat dry with a towel. Always use the machine on dry skin for proper results.
4. Use gentle and smaller diamond tips or sensitive heads to begin with and it is better to test it first on your hand before moving on to your face.
5. Power on the device and put in on lower suction setting either using a control dial or suction control switch.
6. Hold your skin tight with the other hand and move the tip gently over the face in small quick passes. Hold and move the tip flat against the skin surface for proper suction and abrasion.
7. Always move the tip in upward directions from middle or inner areas of face to outer regions to prevent sagging.
Check this cool video to learn how to use a Kendall machine .
Don't hold it over a specific area for long and never do more than 1 or 2 passes over same area repeatedly.
7. After covering your whole face, power off the machine and remove the filters which has collected the dead skin. Your skin may get red or irritated sometimes after using the device. To soothe the skin it is good to apply a toner and moisturizer immediately to maintain skin's pH levels.
8. Clean the diamond tip or head with an alcohol solution before and after each use to prevent any skin infections.
Are There any Microdermabrasion Side Effects?
The side effects are quite minimal as it is a very safe procedure​ that works on your outermost skin layer. Crystal based devices have a risk of crystal ingestion if used near the nose or eye areas. Diamond devices also needs to be sterilized properly before each use.
Some of the other possible side effects are redness, bleeding spots, ​inflammation, pigmentation, minor bruising and skin infections.
How Much Does Microdermabrasion Cost?
The cost depends on ​how you plan to do a microdermabrasion facial. If you do it a salon or dermatologist it can be a costly affair once you run through all the recommended sessions. If you just want to check out if it works, you can get an at home device which are available from 30$ to 250$ depending on type and features.
Final Thoughts
There is little doubt that a best home microdermabrasion machine can be a great investment for people who practice and use them safely.
They can rebuild collagen, get rid of lines and sun damage, and even help with breakouts and even out your skin tone. However, they can also leave scabs and bruises on your face if directions are not followed exactly.
For more experienced user the Kendal may be the best microdermabrasion machine at home. For beginning home users, the Zeny Pro and Trophy Skin machine may be the best options.
They both provide many choices for levels of suctions and a variety of diamond tips that allow users to choose the safest options and customize the microdermabrasion experience for their own skin, even if their skin is sensitive.
All of the options in this roundup will revive your skin and create a younger, smoother appearance at the comfort of your home.