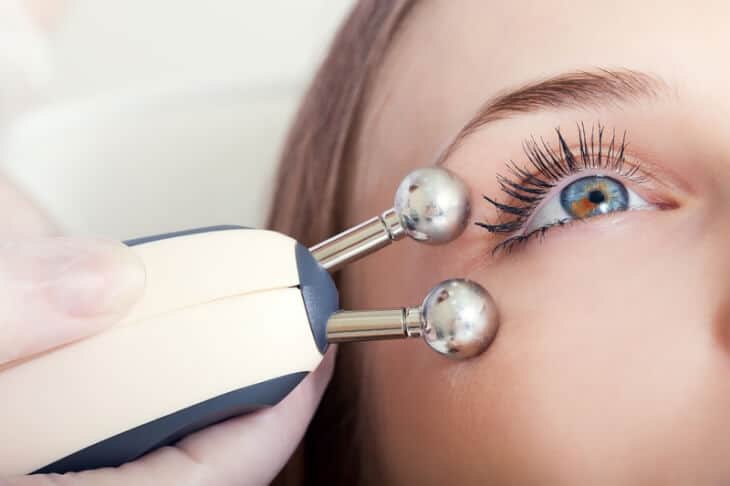 Best Microcurrent Machine For Home Use June 2017
Every woman dreams about having a spa in her own home. Imagine being able to get a facial on demand!
Thanks to technological advancements, now you can get a facial in your own home at any time you want.
More...
They have been used in spas and clinics for facial contouring, toning and firming of aging skin.
Now they have been designed for personal use so that you can enjoy their benefits at home with a best microcurrent machine.
Tools similar to this have been used to help medical patients with facial paralysis for years, and only recently they have been introduced in the beauty world.
These handheld devices developed in beauty labs, gently rub your face and skin to make it firmer and reduce wrinkles.​
First lets find out what exactly is a microcurrent machine , how it benefits your skin and find the best one for your needs.
What is a Microcurrent Machine?
A microcurrent machine for home use does just what its name implies: it runs an electrical current between two wands that you touch to your skin.
It is similar to your body's bio-electric currents, that can give instant results and regular usage can help you maintain a healthier and younger looking skin.
They are safe to use and there is no pain involved. You will be able to feel the electrical current, but it isn't powerful enough to hurt or electrocute you.
The microcurrent stimulates cellular level activity that creates large amount of ATP (Adenosine Tri-Phosphate) that drives muscle contraction, protein synthesis and muscle re-education.
Muscle re-education is the process of lengthening or shortening muscles which lifts the skin and makes it firm.
Your skin will feel smoother and look younger as you relax. Not only will you be able to achieve a more natural contoured look and tighten saggy skin, you will feel like you are getting a massage while doing it!
Galvanic Microcurrent Machines
There is another type of facial machines that uses microcurrent to achieve skin firming and toning. These devices are called galvanic machines and works in a similar way to microcurrent machines.
They use higher direct currents in milliAmperes range, compared to microAmperes used in microcurrent devices. The device works in two ways to improve skin texture.
First process is called "Desincrustation" which involves deep cleansing the skin with a negatively charged gel that draws out dirt, bacteria and other impurities.
The skin is nourished by a process called "Iontophoresis", where a positive charged gel is applied to the cleansed skin. The galvanic facial machine then effectively pushes all the nutrients like vitamins, antioxidants deep into the skin for maximum absorption.
Top 10 Microcurrent Machines Comparison
Image

Model

Power

Intensity Levels

Price

Our Rating

Biosincron Beauty Star

9V Alkaline Battery

10

$$

Project E Beauty

Rechargeable Battery

10

$

Rechargeable Battery

3

$$$

New Spa Eye Zone

2 AAA Battery

5

$

NuFACE Trinity

Rechargeable Battery

​

5

$$$$

SteamSun Bio

AC Power

15

$$$

Rechargeable Battery

4

$$$$

Skincare Experts

Rechargeable Battery

4

$$$

Norlanya

2 AAA Battery

10

$

NuFace Haute Contour

Rechargeable Battery

5

$$$$$
Top 7 Best Microcurrent Machine Reviews
1. Biosincron Beauty Star
The Biosincron Beauty Star is one the best microcurrent machines that can safely erase wrinkles, reduce eye bags, lift saggy neck and revitalize aging skin. It is a premium high quality device that has been designed and manufactured in Europe which has been giving great results for years.
Beauty star is made of rust proof gold-plated metallic elements and has a self–sterilizing probe that does not require any cleaning. The device is compact and cordless and comes with a 9 V alkaline battery that lasts up to 100 hours without any charging.
Intensity can controlled using the adjustable dial which has 10 different levels. Select the desired intensity level and gently apply the probe on your face. If you notice a slight tingle, it means the device is working. Start with lower intensity levels first and later you can move to higher levels.
Recommended usage is 25 minutes daily with each area for 2-3 minutes till you see noticeable results. Later you can reduce to once every 3 days for maintaining the look. Don't forget to put on the Spectra electrode conductive gel that comes with it before using the device.
Beauty star is a premium microcurrent device with a unique design and proven results making it on top of our list. Check out this video to learn how to use it.
Review Snap : Biosincron Beauty Star
Specifications
+ Intensity control - 10 levels
+ Cordless
+ Electrode conductive gel
Features
+ Alkaline battery 9V
+ Gold plated elements
+ Self sterilizing probe
PROS
Excellent quality machine with gold plated elements
Easy to adjust current level , self- sterilizing probe
Cordless, alkaline battery with 100 hrs use time
Verdict : Premium quality affordable microcurrent machine well designed for home use
2. Project E Beauty Galvanic Device
The Project E galvanic is one of the best galvanic facial machines. The device is rechargeable and comes with a roller head for face or neck areas and a ball probe for eye and nose regions.
You can adjust the intensity levels through a side roller button. For cleansing mode, you can press the negative button and adjust the desired intensity level.
For penetration mode positive button must be used along with positive ion gel on your face. Always move the device in upward direction and your hand must touch the metallic parts on both side of the device.
The portable device is lightweight and easy to use. Recommended use is 4 times a week for best results. The Project E galvanic facial machine is a good choice for those want to enjoy the benefits of galvanic microcurrent machine.
Review Snap : Project E Beauty
Specifications
+ Voltage control - Dial -+7v to +12v
-7v to -12 v
+ Galvanic microcurrent
+​ Roller probe-1
Ball probe-1
Features
+ Educate, Erase mode
+ Rechargeable
PROS
Galvanic microcurrent design that delivers accurate voltages
Cordless, dial intensity control, inexpensive
Rechargeable, lightweight, portable and easy to use
CONS
Needs some practice to use
Verdict : Good afforadable galvanic microcurrent machine for home use
3. NuFACE Mini Glam On-the-Go Gift Set
This NuFACE microcurrent machine is an FDA approved smaller, limited edition version of the NuFACE Trinity(See below).
While it doesn't attach to all of the different wands that you can buy for the NuFACE Trinity, the Mini Gift Set is a great entry into the world of microcurrent machines.
Of course, since this is a smaller tool, it may be the best option for travelers who need to take advantage of precious space. It has a 3 level button for intensity control.
The Mini Gift Set microcurrent machine is just about the size of the palm of your hand. This also makes it a good option for younger users who don't need all of the attachments that come with more elaborate anti-aging machines.
This kit will include two ounces of toning gel with the device, which isn't a lot, but the device is smaller than most and will use less gel. You can also order and of the NuFACE gels online to replace it, so if you really want to slather gold across your face before a treatment, go for it!
The kit also includes one ounce of collagen booster infusion serum, which will help to firm your skin after using the microcurrent machine. Check the below video for useful tips to get best results.
Review Snap : NuFACE Mini Glam Set
Specifications
+ Intensity control - 3 levels
+ Gel primer
+​ Rechargeable battery
+ Collagen booster
Features
+ Smart skin sensor
+ Self timer
+ FDA approved
PROS
Good results ,FDA cleared
Easy to hold and use
Cordless, rechargeable and portable with self timer
CONS
12 hours to fully recharge battery
No option for using attachments
Verdict : Smaller, less expensive version of NuFACE Trinity that gives results
4. New Spa Eye Zone Lifting Massager
The New Spa Eye Zone Lifting Massager is a tiny, inexpensive microcurrent machine for beginners who specifically want to lift and firm their eye area.
It is also perfect for working on small lines in hard-to-reach areas on your face due to smaller tips and not just the eye area. If you are looking for a machine to firm large cheek or neck wrinkles, this is not the machine for you.
This adorably small device works from 2 AAA batteries, which are included in the kit that comes with it. No worrying about charging or plugs when using this machine!
The power of this machine is low enough that you can barely feel it, which is good for its purpose because the skin around the eyes can be thinner and more sensitive. It has a 5 level intensity setting option for varying level of muscle contractions.
The machine comes with lotion to wet the nodes and area before treatment, but it also recommends that aloe vera gel can be used in place of this lotion if you run out or don't like it. It also comes with eye masks to wet and moisturize the under-eye area to improve results.
You can use the New Spa microcurrent machine daily for ten to fifteen minutes initially for noticeable results around the eyes. Once you get the desired results you can reduce the frequency to maintain the look.
Review Snap : New Spa Eye Zone Massager
Specifications
+ Intensity control - 5 levels
+ Battery - 2AAA
+ Conductive gel
+ 5 Eye masks
Features
+ Wands with small tips for better reach
PROS
Small ,easy to use
Easy to adjust intensity level
Cordless, portable , inexpensive
CONS
Specifically designed for eye zone
Need more strokes to cover large areas ,less power , AAA battery
Verdict : Inexpensive useful gadget suited for beginners
5. NuFACE Trinity Facial Trainer Kit
The NuFACE Trinity facial trainer is one the best microcurrent device for home use that can give spa like results.
With its Trinity facial trainer attachment, you can firm your skin with daily treatments lasting anywhere from five to twenty minutes.
It is also the only FDA cleared and clinically tested award winning hand held device for facial toning.
The machine will even shut itself off after twenty minutes so that your toning experience is safe and healthy. The self-timer and automatic shutoff is great for you if you are the kind of person who accidentally overdoes beauty treatments (ever leave that mud mask on too long?).
It is cordless and takes 12 hours for getting fully charged. Intensity can be controlled through a five level button.
The NuFACE trainer has a smart skin sensor and interchangeable attachments to target basically any of your needs. In order to use it, you will need to use the charging cradle and power adaptor that come with the trainer to charge it, and then you will smear a gel (that also comes with the kit) across the electric nodes before placing it on the parts of your face you want to tone and contour.
Additionally, you can buy attachments to customize the NuFACE trainer to fit exactly what you want. A wrinkle reducer attachment can be bought to work on large facial wrinkles, and you can buy Trinity Ele attachment to focus on smaller, more sensitive areas around your eyes and lips.
You can also customize the kind of facial training you do by using different types of gels – who knew? NuFACE has many type of gels like anti-aging gels, collagen-boosting gels, brightening gels, and even 24-karat gold gels.
Once you've use the gel that comes with your starter kit up, think about your specific purpose for buying the facial trainer and try a gel that aligns with your goals.
Recommended usage is 5 minutes per day for 5 times a week for first 2 months then you can reduce the frequency as desired for maintaining the results.
Review Snap : NuFACE Trinity
Specifications
+ Intensity control - 5 levels
+ Gel primer with kit
+​ Rechargeable battery
+ Self timer
Features
+ Smart skin sensor
+ Interchangeable heads
+ Add-ons attachments
+ FDA approved
PROS
Spa like results with just 5 min use,FDA cleared
Add-ons like wrinkle reducer,Ele attachment can be bought separately
Cordless, rechargeable and portable with timer, easy to use
CONS
12 hours to fully recharge battery
Expensive
Verdict : Expensive device with all essential features
6. SteamSun Bio Face Lift B-809
The SteamSun microcurrent machine comes in a package that looks a little like a doctor's bag, but don't worry: you don't have to be a doctor to figure out how to use it.
Like any microcurrent machine, this one will need electrode gel to work safely. This machine does not come with gel, so make sure that you buy some before you use it.
The package does come packed with enough other tools to make up for this, though. If you like variety in your beauty routine, this microcurrent machine may be a good choice for you.
The facelift machine comes with a charging cable to provide power, two sets of copper nodes, two sets of calabash-shaped nodes (which appear beaded and will give a unique massage feel), and two cotton-stick nodes.
On top of all of those choices, it also comes with a hammer-shaped tool that provides heating and cooling touches to your face and gloves to wear for safety and cleanliness while using the tool. But it does not come with a scrubber.
The steam sun gives good results and can be used on whole body for improving blood circulation and to relieve pain in addition to firming and toning your skin.
The SteamSun's options even extend to a timer that allows you to set a time limit of up to thirty minutes and options for to change the intensity of the microcurrent you use. All of these choices do come with a drawback, though.
The instructional manual and DVD that come with the machine are not well-translated into English and may make all of the tools seem more confusing. Nevertheless it is one of the best microcurrent device for getting professional results at home.
Review Snap : SteamSun Bio-809
Specifications
+ Intensity control - 15 levels
+ 2 copper handles, 2 calabash handles
+ 2 cotton stick handles, 1 hammer
Features
+ Timer
+ AC power
+ Current control
+ Portable case
PROS
Spa like machine with lot of wands
Easy to adjust current level
Cordless, rechargeable and portable with self timer
CONS
Need to get gel separately
Expensive , No FDA approval
Instructions not well translated to english
Verdict : Best Professional quality machine for home use
7. 7e Myolift
At first glance, the 7e Wellness Myolift looks like a glucose meter machine, but don't let that turn you away from it.
Myolift is also FDA cleared making it one of the best microcurrent facial machine.
While it isn't the prettiest or girliest machine, its large LCD screen is useful for showing precise readings, including electrical intensity and time passed since beginning each treatment.
The buttons below is screen also make adjustments easy. This is great if you are new to giving microcurrent facials to yourself!
It has two modes "Educate" and "Erase" with each mode having a unique frequency with 2 level settings to penetrate the skin with different strengths.
The machine comes with two wands with each wand having two separate tips for delivering electric current. The wands are sleek and slim, which makes them easy to hold, especially in comparison to some of the bulkier machines.
To prepare the wands for use, you will need to put the seaweed gel that comes with the machine on its nodes. If you are looking for natural ingredients, seaweed gel is a good, more natural choice than many of the other gels on the market.
In educate mode, you will hold one wand on your face, place the other wand below and move the bottom wand up towards the top, pinching the muscle in between and pausing for 3 to 5 seconds. The educate mode is useful for larger areas of your face.
For erase mode, you need to make quick short moves without pausing. Erase mode works well for wrinkles and fine lines around eyes, mouth and nose. Check this video that shows how to use the Myolift.
While this device isn't as small as the NuFACE mini, it is lightweight and small enough to be portable and would be ok to travel with if you have enough space in your bag.
It uses rechargeable batteries to work, so you don't have to worry about tangled cords or being next to an outlet while using it.
You can use this daily till you see desired results and ​the duration can be 10 to 15 minutes depending on area you wish to cover.
Review Snap : Myolift
Specifications
+ Intensity control - 2 levels in 2 modes
+ Natural Gel
+​ Two wands with 2 tips
+ Rechargeable
Features
+ Educate, Erase mode
+ LCD screen
+ FDA approved
PROS
FDA cleared, unique design that delivers accurate current
Erase and educate mode for specific areas
Rechargeable, lightweight, portable and easy to use with LCD screen
CONS
Needs some practice to use
Verdict : Unique and compact machine that gives good results at home
Benefits of a Microcurrent Machine
Anybody, young or old, can benefit from a best microcurrent facial toning system. The electric current tones the face. Think of it like you would think of a treadmill or other exercise machine: the microcurrent wand will give your facial muscles a workout.
Older women can use microcurrent machines for facelifts and wrinkle reduction therapies. Younger women can use them as preventative tools to train the face and clear up acne. Some users have even seen microcurrent machines lessen the appearance of rosacea.
Some of its benefits are:
Reduction of fine lines and wrinkles on the face
Improve facial blood circulation and skin texture to give a younger, healthy look
Increase natural production of

collagen and elastin
Reduce the appearance of acnes and scars
Re-educat

e

and rejuvenate muscle tissues
Enhance penetration and effect of skin products
Tightens and

reduces pores ,dark eye circles

and puffiness
Aid in healing wounds , sun damaged skin
Buying Guide
Looking for a microcurrent machine for home use means you need to think about what areas of your face you want to target and tone.
FDA Approval -

FDA approved devices are always recommended if you are using home devices. Check if the device has been approved by FDA for facial toning.

Intensity Control-

The devices usually have different levels of intensity setting controlled by buttons. So for

better control

look for device with wide range of intensity levels to choose desired current strengths for the treatment.
Cordless-

Compact portable cordless devices are easier to use on face by yourself. In general these type of devices will be equipped with

rechargeable

batteries or alkaline batteries to enable wireless use. You will also need to think about how much space you have for a machine and whether or not you intend to travel with it (some are much bigger and bulkier than others).

Timer-

An inbuilt

treatment timer

is a handy feature to have for a home device. You can set the timer and perform the facial till the device alerts the time.
Add-On's-

Next, you will need to think about what add-ons you will want for your machine (extra wands to reach the eye area? Check if it has

roller probe

or

bipolar probe

heads that can work on face and eye areas respectively. Does it come with Eco-friendly conductive gel? and ask if the machine you get will be able to work with the add-ons you want.

Others-

Other extras like display ,LED indicators, ergonomic design, replaceable parts and ease of use are also worth considering.​
Which is the best one for you?
So what's the best microcurrent machine for somebody looking to invest in at-home facials? Each machine has its own benefits and drawbacks, but the Biosincron Beauty Star is our choice for the best at home microcurrent machine!
NuFace is also quite good and is one of the most popular microcurrent machines on the market today. It is a FDA approved and has a good range of gels and accessories.
Easily the most portable microcurrent machine, the New Spa Eye zone machine comes with just enough conducting gel for beginners, and it can work with other gels you purchase once those run out.​
The Project E Beauty is the best galvanic device for home use.​
Microcurrent machines are fast becoming a popular home facial gadget and is a must have device for face like a facial epilator or a microdermabrasion machine!​